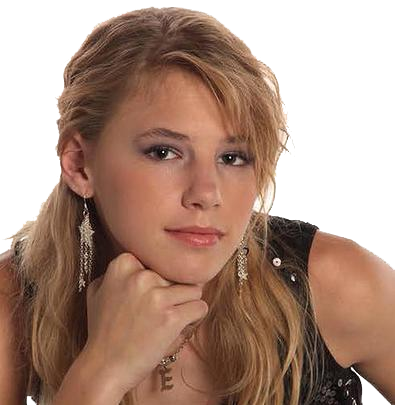 Emma Leigh, one of the stars of RFD-TV's "Virginia Dreams Center Stage," has been signed to the lineup for the April 13 Night of the Superstars. Leigh, now working on her second studio album, will perform a free concert at Night of the Superstars beginning at 7 p.m. She will also perform the national anthem before the anticipated sellout crowd at Waynesboro High School.
Leigh, 16, has taken the stage with the likes of Jimmy Fortune of The Statler Brothers and has opened for Randy Travis, Wilson-Fairchild and country supergroup Exile.
Tickets to Night of the Superstars: Click here.
"I'm looking forward to performing in front of the crowd at Night of the Superstars. This will be a different experience for me," said Leigh, an Augusta County native.
Leigh's first studio album, "I Wanna Be Rich," features original songs including the title track along with "Daddy's Little Girl," "Angel Within" and "If You Think You Can," as well as covers of hits by Patty Loveless, Lorrie Morgan, The Dixie Chicks, Miranda Lambert and Taylor Swift.
The "I Wanna Be Rich" CD available online at her website, www.EmmaLeighMusic.com.
2013 WWE Hall of Fame inductee and New York Times bestselling author Mick Foley is bringing his critically acclaimed comedy show to Waynesboro, Va., on Saturday, April 13 at 4 p.m. The Tales from Wrestling Past Comedy Show is coming to the Louis Spilman Auditorium at Waynesboro High School, 1200 W. Main St., Waynesboro, Va.
Tickets for the show, sponsored by Top Rope Pro Wrestling and the Wayne Theatre Alliance, are $20 online and $25 at the door.
"I really enjoy being up onstage," said Foley, who began touring the standup comedy circuit in 2011. "It reminds me of my days as commissioner in WWE in 2000 when I had a microphone and could basically say anything I wanted to. I miss those days, so I take advantage of the opportunity to re-create that feeling."
Foley is just back from a tour of Australia, and will be off later in April on an extended tour of the UK.
The show, Foley said in an interview with the Kansas City website Pitch.com, is primarily intended for a wrestling audience, but he tries to "make it very welcoming to those brave enough to wander in from the cold."
"Probably my favorite review of one of my shows was from a decidedly non-wrestling fan, reviewing me for a decidedly non-wrestling online magazine called Broadway Babies. Her final line was, 'If you're interested in wrestling, you'll love it. And if you're not, you'll like it.' A lot of reviewers have gone out of their way to state that they enjoyed the show despite not being a wrestling fan. I take a lot of pride in that," Foley said.
Foley will also take place in a Fan Meet and Greet from 6-8 p.m. as part of the Mick Foley Experience. Tickets to the Mick Foley Meet & Greet are $30 each online or $35 at the door.