Lecture on Virginia Indians in the 20th Century at the Gateway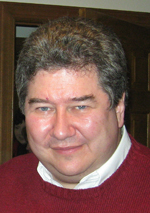 The 20th century was a time of unparalleled turmoil and opportunity for America's Native population. Nowhere was that more true than here in Virginia. Larry Jent will trace that journey in his lecture Native Trials and Tribulations at WTA's Gateway on Thursday, May 16 at 7 pm.
Within the Commonwealth of Virginia, zealots for racial supremacy almost accomplished by pen and paper what armies and guns had failed to do: elimination of every Indian in Virginia. This twisted tale starts on sacred tribal grounds and winds all the way to Hitler's Germany. It involves nameless clerks in countless courthouses, mighty armies, and a little bit of Loving.
Today, the marks of this story are fading from history but they still touch the lives of every Native American in Virginia. Rev. Larry Jenks invites his audience to follow the trail of paper genocide and improbable victories, as they learn about the Commonwealths Indian heritage in the 20th century–and beyond.
The Rev. Jent, the pastor of the Fishersville United Methodist Church, was born in Illinois, but his family never lost their roots from the mountains of North Carolina and Virginia. As a person of Cherokee and Sac-Fox heritage, Rev. Jent has always been active in Native American ministries. Native insights–along with his Appalachian sense of humor–shape his ministry in powerful ways. An accomplished musician and storyteller, Jent has performed in folk venues throughout the Southeast. He enjoys playing Appalachian, Native American, and Celtic root music–and has won prestigious liar's competitions! He assures us that his lecture does not qualify for that competition.
The monthly history lectures are a joint project of the Waynesboro Heritage Foundation and the Wayne Theatre Alliance. There is no admission fee but donations of at least $5 are suggested.